Lance Armstrong: Myths, Legends & Lies
Last night, Lance Armstrong released a statement basically saying he wouldn't accept the USADA's discipline of him. He wouldn't take the case to arbitration and he threatened to sue the USADA if they attempted to sanction him. Legally, the courts have already said he has no case. But really, this was Armstrong's last attempt to win the in court of public opinion. Armstrong's press release contained the now-familiar talking points. I've already heard & read a number of reporters saying these talking points as if they were fact. They're not.



Lance Armstrong is the most tested athlete in history. He's been tested over 500 times.


No, he hasn't



Lance's paid liars have invent the myth that lance has passed 500 tests. That he never tested positive. That he was the most tested athlete in history. They offer no evidence to support it, because it is a lie. One that is rather easy to prove wrong



You can look up the WADA testing history of any American rider on the USADA website.




http://www.usada.org/athlete-test-history




Since 2001 Lance has been tested 29 times. By comparison



George Hincapie 38
levi Leipheimer 40
Kirsten Armstrong 66



In 2004 le Equipe published Armstrong's UCI testing figures




1999 : 15 contrô urinaires conventionnels (1 positif àa triamcinolone acénide – corticoïs)
2000 : 12 contrô urinaires conventionnels
2001 : 10 contrô urinaires conventionnels, dont 5 avec déction de l'EPO
2002 : 9 contrô urinaires conventionnels incluant la recherche d'HES, dont 8 avec déction de l'EPO
2003 : 9 contrô urinaires conventionnels incluant la recherche d'HES, dont 6 avec déction de l'EPO
2004 : 8 contrô urinaires conventionnels incluant la recherche d'HES, dont 7 avec déction de l'EPO . 1 contrôsanguin de déction des héglobines de synthè




Total UCI tests: 63



Total tests: 92 ……..Nowhere close to 500 tests.



See that, Lance isn't even the most tested Armstrong. Here's some more information and a nice graph outlining the legend of 500 tests.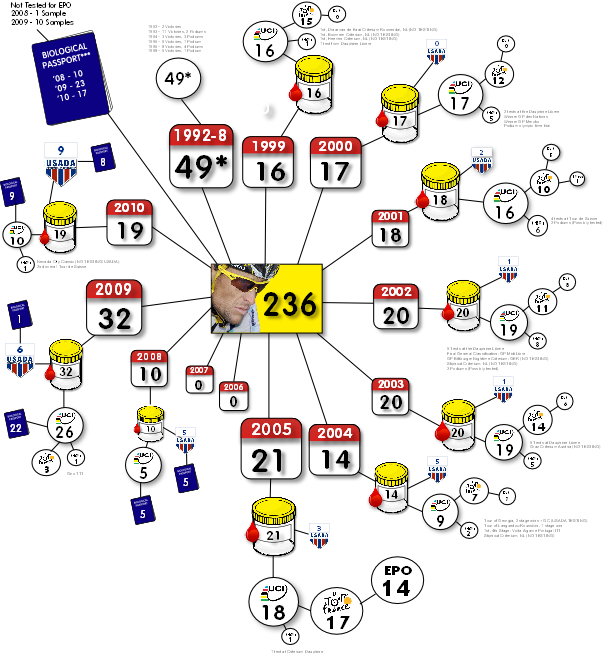 Lance Armstrong never failed a drug test
.
Yes, he has. In 1999 he tested positive for cortisone and then produced a back-dated slip saying it was for saddle sores. If he had gone to arbitration, witnesses were prepared to testify that he tested positive for EPO in 2001 in the Tour of Switzerland, but the UCI kept the test quiet after a fat donation (do you understand now why Armstrong is so desperate to claim he's only under UCI jurisdiction? If he burns, they burn.). His 1999 Tour de France samples were retroactively tested in 2005 and were positive for EPO. Read
David Walsh's excellent "From Lance to Landis" for more information
, but basically the French lab was testing samples with only a control number as ID. A journalist from l'Equipe was able to match the control number to the rider with the ironic help of the UCI and Armstrong's own camp. Said journalist matched up the rider to the positive samples. There was no "evil French tampering". The lab had no idea who they were testing. And this doesn't even get into
showergate
and apparently another time that Armstrong was missing for a drug test. Not being available for a drug test is the same as failing a drug test. Ask Michael Rasmussen.
Also, you know else has never failed a drug test? Marion Jones, Marita Koch and Barry Bonds. Just sayin'.
And let's talk about the cancer. Armstrong's beta-hCG (the indicator of testicular cancer) should have been detected in routine doping tests months earlier. He had stage 3 or 4 cancer, for god's sake. There are other examples of athletes whose testicular cancer was caught via doping tests. Why wasn't Armstrong's? The only logical answers are that his positive tests were ignored or that he used a masking agent.
Armstrong's accusers are a bunch of dopers looking for immunity
Two of the main witnesses against Armstrong are Betsy Andreu, the wife of a former teammate who testified after being subpoenaed that she heard Armstrong tell his cancer doctors that he used PEDs. Another witness is Emma O'Reilly, a soigneur for Armstrong's team, who testified that she backdated a slip for cortisone use, helped Armstrong cover up needle marks with makeup and disposed of "mysterious" packages for Armstrong, among other things. O'Reilly has been out of the sport for years and has nothing to be afraid of, other than Armstrong's bullying tactics and attempts to smear her as an Irish drunk whore.
Everyone dopes.
No, they don't. There were heroes in the peloton. Guys like
Christophe Bassons
who refused to dope. In the re-testing of the 1999 Tour de France samples, not every sample tested positive, only about half did. There are other untold cyclists whose names we don't know because they refused to cheat. They weren't on the podium, they were toiling away in the peloton.
Armstrong still "won" his Tours because all of the top riders doped. He won in a level playing field.
Doping doesn't level the playing field. To be really simple about it, EPO increases your hemocrit (the amount of red blood cells in your blood). If your hemocrit is above 50, that's a positive test. Some cyclists might have a natural hemocrit of 42, another might naturally be 46. Who does doping help more? Is doping really leveling the playing field so much as giving an unnatural advantage?
Plus, different people respond differently to drugs. Are you ready to crown someone a champion because their body takes to doping better? And some riders have access to "better" and more expensive doping experts. A
Dr. Ferrari
can create a better doping program than a
Dr. Nick
.
This happened years ago. We shouldn't care about the past.
When EPO first came out, riders literally
died
in the sleep because they didn't know what they were doing and their blood got too thick and their hearts gave out. That's the kind of crap that can happen with unregulated cycling. People die. People suffer terrible illnesses. American junior cyclists in the mid-90s suffered serious health consequences because of irresponsible doctors and the attitude that shooting yourself up with drugs was normal and the only way to win. There are terrible choices that young riders have to make – do you risk your health and compromise your integrity in order to have a career? If you don't think that's important or that matters, then I can't help you.
3 Comments